Awesomeness!!!
Supercalifragilisticexpialidocious!! haa tu dia... Memang a day to remember.
I got to know about this from
Hana Tajima'
s website. So, I thought why not I come since its free and I get to see the people who revolutionised the wearing of hijab in Malaysia.
So we arrived there at 12. Yes, me and my camerakid cum assistant Amir. We then head straight to Madam Kwan area coz we need to get to UG floor. Then we registered at the security to gain access to the SoHo floors. The event was at the 10th floor.
There were not many people coz they've only started (it was from 12pm to 7 pm). When we entered, I straight away saw Hana Tajima,
Ami Schaheera
and
Mas
(the organiser). (Terus gi amik gambar ngan Hana....excited gila ok, over betul). Luckily I have my camerakid (n nasib baik gambar polaroid budak kecik tu amik suma jadik).
Ni booth Hana Tajima. She is sooo cute and really a softspoken person. Amir helped to take our pictures but he goofed around (sampai Hana tergelak-gelak tengok gelagat dia).

This is Ami Schaheera's booth. Oh I love her scarves collection. Baju dia jual pun vintage and funky.

I bought 2 scarves from Ami's booth (1 silk kaler royal blue RM50 -homaigod cantiknya!!! Pastu lagi satu mixed hijau ngan kelabu RM5 je yg ni - pun cantik giler!!) under her brand Sputniksweetheart. The scarves I bought are awesome!!!
Then jalan-jalan up to the first floor and guess what? I jumpa
Maria Elena
. She was also looking around but she looks really pretty. Here's she with Amir (we asked Amir to make goofy face tapi dia nk serious jugak).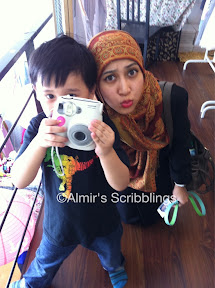 Haih ada satu citer nih...I think I'm gelabah kot, yelah, face to face ngan Maria pastu tup tup bila dia nk snap a pic of me and Amir, polaroid film tu habis pulak. Pastu I menggelabah sampai Maria yg tolong ajar bukak kan bungkus film tuh (what?). Thnx ye dik.

This is a view from upstairs.
Upstairs were all Bono Stellar's clothes. Just a snippet of her collection and deco using my humble cameraphone.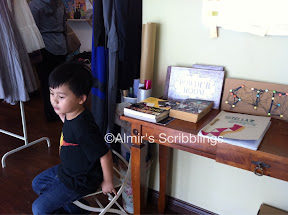 And my camerakid also took pics with
BonoStellar
(aik ni siapa yang jadik cameraman nih?)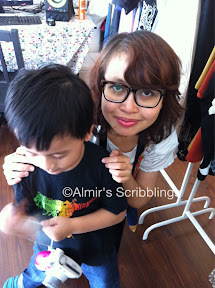 I also took pictures with
Mas Angelina
(tapi baru perasan takde dalam phone pulak eh...) and met a new awesome friend who share the same interest as me (Aimi, I hope you like the mini polaroid). But, I didn't have the chance to meet
Azzamoro
(coz I went early so tak sempat jumpa dia).
I will definitely remember this day coz this is the day that I met with celebrity bloggers, for the first time in my life, since I started blogging nearly 2 years now.
Note: Pic quality not up to standard coz using camera phone
- Posted using BlogPress using my iPhone
Location:Empire Subang